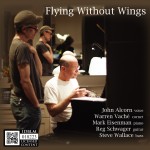 We've released our new album, Flying Without Wings. recorded here, at the Jazz In The Kitchen studio.
John Alcorn, Reg Schwager, and Steve Wallace had a weekly gig in 2012 at the Flying Beaver Pubaret. The music was absolutely extraordinary. I knew it needed to be recorded. You never know how long these things will last.
So, here it is, with the added delights of Warren Vaché on cornet and Mark Eisenman on piano.
Everybody performing in this album are regular performers at Jazz In The Kitchen. Please enjoy. I know you will love it.