Marny's Cake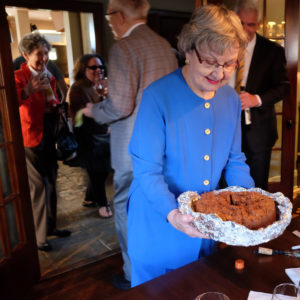 John's mum, Marny Loach, brings her famous cakes to every Jazz In The Kitchen. Here's the recipe.
"Gramma Taught Us How" Cake
Preheat oven to 350 degrees F.
Mix together:
2 cups white sugar
1-1/4 cups light vegetable oil
2 eggs
In a separate, large bowl, combine:
3 cups of all purpose flour
1 tsp baking soda
1 tsp salt
3 tsp cinnamon
3 cups diced, peeled apples
1 cup of nuts (optional)
1 cup of raisins, or Craisins (optional)
Add the wet ingredients to the dry ingredients and mix with your hands, gently but thoroughly. Bake in an ungreased 9 x 13 pan for one hour. Let cool before cutting.